Introducing Google Analytics:
If you want to know what is Google Analytics, how to Setup it on the website, or you have set it up but never looked at your website data, then this post for you. Although it is not heard or it is not so something a little bit. You can use other analytic tools but Google Analytic is best for measuring any website traffic. In this post, we're gonna look at Google analytic step by step from the beginner's point of view. What Google analytic is important, How to set it, how to use it,  how to use it, how to work it, everything we discuss in detail.
What is Google Analytics?
Google Analytics is a web analytics tool or service that is offered by Google.  The Analytics tools tracks and reports website traffic, country location, traffic behaviours, count view, etc. And everything website owners can know what a webmaster needs for marketing or business. In November 2005, Google launched the service for better user experience. . 
Google Analytics is the most widely used web analytics service in 2019. Google analytics tools provide browser extensions, Android app, Google web browsers and mobile app.
Why Google Analytics Need:
Do you have an Amazon niche site? Do you have a static website or blog website? If your answer is yes, you need Google Analytics to track your visitors to grow your business or personal blog. There are a few questions in your mind about your website. You can get an answer using google analytics. 
How many visitors visit my website? 
Where is my visitor's location?
Why do I need a mobile-friendly website?
Which source do I visit?
Which Page is most popular on my website? 
How much time visitors spend on my website?
How many visitors convert into leads or customers?
How to improve my website speed?
Which post is a visitor like or dislike?
If you use Google Analytics, You will answer any additional questions that are most important for most website owners. Now we show how you can get Google Analytics on your websites.
How to setup Google Analytics:
First, you need a Google account to create a Google Analytics account. If you have any Google account that you can use to create an Analytics account or you will create a new one. This Google account uses another service like Gmail, YouTube, Google Drive, Google Calendar, Google+  etc.
This account should be secure that you have a plan to keep forever. Only you control and access your account because it is most important. Can give access to someone else if needed, In that case, full control cannot be given to him.
Create your Google Analytics account :
Just click on Google Analytics or search in Google "Google Analytics sign up" and click the Sign into Google analytics Button. You have to pass three-step to set up Google Analytics. 


After clicking the Sign-Up button, fill the form with your website information.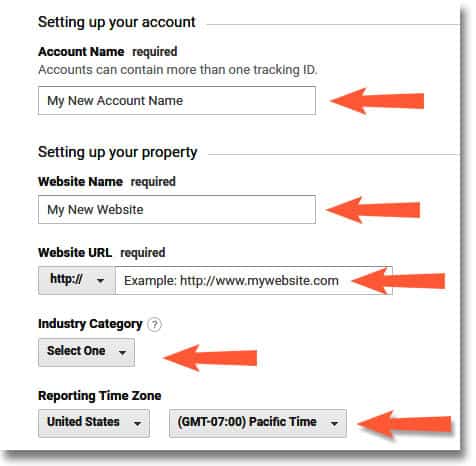 if you have one google account. You can create multiple Google Analytics under one Google account. You can set up multiple websites in one Google Analytics account.