Introduction:
Amazon Inc is an American multinational technology company that was founded in 1994 by Jeff Bezos. Amazon is one of the largest E-commerce companies in the world, founded by Jeff Bezos. The company focuses on E-commerce,  cloud computing, and artificial intelligence. It is one of the largest technology companies alongside Apple, Google, And Microsoft. Amazon is the 13th largest company by revenue. Amazon is the world's largest internet company and valuable company.
In 1994 Amazon started as an online marketplace for selling books. Then the company started to sell software, video games, electronics, furniture, food, toys, and jewellery.
| Company | Amazon Inc. |
| --- | --- |
| | July 5, 1994; |
| Industry | Cloud computing, E-commerce, Artificial intelligence, Digital distribution, Consumer electronics, grocery stores. |
| Founder | Jeff Bezos. |
| Headquarter | Seattle, United Stated. |
| Products | Echo, Fire TV, Fire Tablet, Fire OS, Kindle. |
| Revenue | $280.522 billion. |
| Website | amazon.com |
Amazon mission statement 2021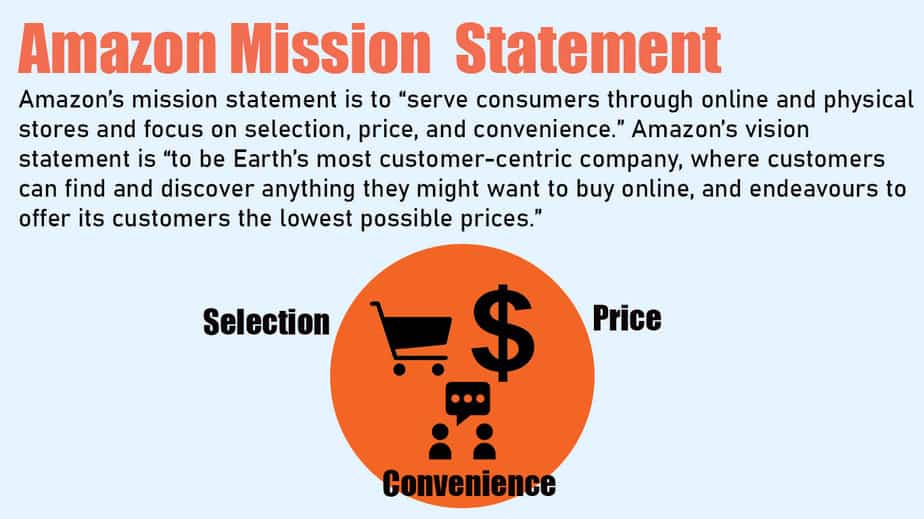 Amazon mission statement is to help the customers to find, buy, discover anything using the internet and technology. We try to empower businesses and content creators to maximize their success.
We believe that this mission is the most important for customers and businesses. It helps people to improve up and down the country and drives our economic competitiveness and productivity in a global economy.
The mission statement describes what the visitors or customers should expect from Amazon.  Amazon mainly targets there shopping Factors that include Pricing, Variety and Personal Satisfaction. 
Based on this, Amazon tries to fulfil customers' needs.
The lowest prices: Amazon always thinks about the spending of its customers. It gives customers the best facilities by providing lowest price and quality products. Amazon provides the quality product which they display.
Amazon focuses on global price and global service. The website displayed the best quality product and customers reviewed so that new customers get a clear concept to by-product. Amazon's marketing model is better than its competitors. The company offers a minimum enabling product price, and service. 
The best selection: The best characteristic of Amazon's mission statement, customers find the best product and service by using its site. For this amazon gets more popularity globally. Every customer can find virtually everything with ease on Amazon. 
. 
Utmost convenience: In this mission statement Amazon tries to give their customers the best priority. It understands what the best appropriate ways for its customers are and how to access them comfortably for their homes.  Amazon helps its customers to get service firstly. 
Amazon Vision Statement 2021
The vision statement of Amazon is  "to be Earth's most customer-centric company, where customers can find and discover anything they might want to buy online."  The vision Underscores to become the best e-commerce company in the world and the organization's business. The following characteristics are identifiable in Amazon's statement: 
Customer-centric approach: Amazon popularity growing day by day. Amazon improves its artificial intelligence to help its customers, so that, customers find products easily. Is moving forward according to customers behaviors.